Set Off The Best Features Of Your Atlanta, GA Home's Exterior With Accent Lighting
If your entire home was washed out with light, it wouldn't be a great look. To create the desired mood when you illuminate your home, accent lighting is where it's at.
Accent lighting is the execution of using strategically placed lights to highlight specific areas of your home's exterior. It creates areas of bright visibility while leaving slightly darker areas to give drama. These lights can be used as guides or as a means to highlight certain aspects of your home's façade. It all depends on the way it is designed. Whether your home is all brick or built with other construction methods, our lights can enhance its look.
Divine Lightscapes specializes in the design and installation of accent lighting. We'll help you get the look you're after.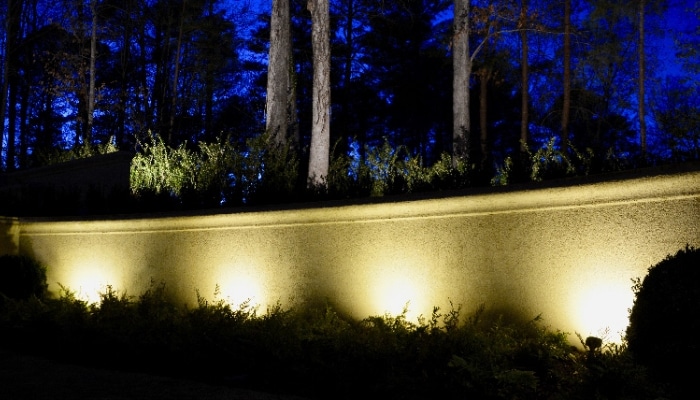 The Flexible Possibilities Of Accent Lighting
You have quite a few options when it comes to accent lighting. You have your own preferences for lighting, and your home has its own unique features. The primary focus of lighting should be your house, or else an undesirable look might be created. So while landscape features such as trees or gardens can be accented, the hardscape of your home is typically where you want to begin.
You can opt to have evenly spaced lighting or concentrate lighting around your steps or other feature. However, the space left between the lights is just as important as the lights themselves, so too many lights in one area should be avoided.
There are a lot of considerations. Divine Lightscapes is here to guide you.
Rely On Divine Lightscapes For Expert Accent Lighting Design
We are here to give you the experience you deserve - answered calls, on-time arrivals and remarkable lighting. We are experienced, qualified and fully committed to your satisfaction. If you're ready to accent your home, send us a message online or call 404-242-1022 today!