Bring the Benefits of Soffit Lighting to Your Atlanta, GA Home's Exterior
Here's a trend that's here to stay: soffit lighting. Soffit lighting is recessed lighting for the exterior of your home that points downward. Previously popular in kitchens, living rooms and other indoor spaces, this type of lighting gives a very sophisticated look to the outside of your home as well when designed and installed correctly.
Trust Divine Lightscapes for professional work that will truly make your home shine in your neighborhood!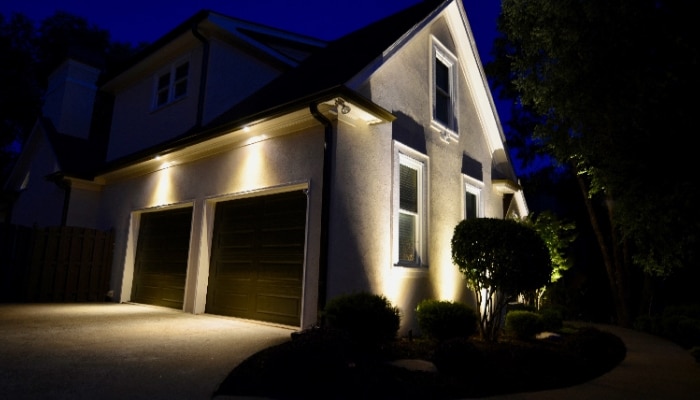 Explore Soffit Lighting Ideas
Maybe you have a vision for your soffit lighting in mind already, or maybe you're looking for suggestions. Our design experts can help you find the best placement for these lights. They are normally installed right under the lip of your roof. These are a few popular options:
Above Your Garage - This provides a wash of light for evening and early morning car trips.
Everywhere - This is an easy way to provide extra visibility for your home and help increase safety and security.
Above Doors - Often, the lighting that came with your home is not adequate or attractive enough. We can redo this so that you have clear visibility when entering or leaving your home at night without it being an eyesore.
Artistically - You can have the lights placed here and there and in combination with other lighting styles for purely aesthetic appeal.
To see this in action, you can check out our lighting gallery.
Schedule Service & Get Your Questions Answered
Divine Lightscapes, with our experienced lighting experts, has you covered every step of the way when it comes to your exterior lighting. We firmly believe in seeing every job to a thorough completion, and that reflects in everything we do as a company. If you're looking to get started, message us online or call 404-242-1022 today!