Illuminate Your Atlanta, GA Home's Natural Beauty With Our Landscape Tree Lighting Service
Sometimes the best parts of our landscape aren't made of brick or mortar but are alive and dynamic from season to season. Landscape tree lighting is a great way to take advantage of the natural features of your yard and use them to enhance your lightscape or add extra glamour.
Let Divine Lightscapes step in and give you expert service and design advice to turn your trees into sensational sentinels of beauty for your home.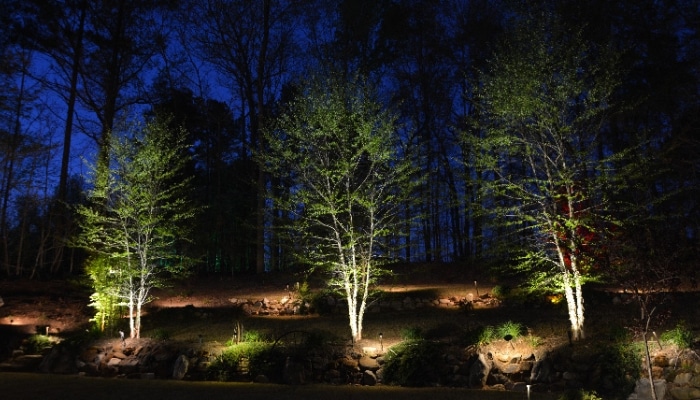 We Design For Your Trees & Shrubs
There are many different types of trees that thrive in the Atlanta area, including:
Deciduous: Maple, Japanese Maple, Hickory, Deodar Cedar, Eastern Redbud, Flowering Dogwood, Tulip Poplar, River Birches, Crape Myrtles
Evergreen: Holly, Southern Magnolias, Cypress, Hemlock, Spruce, Juniper, Boxwood, Palm, Green Giants, Arborvitae
It's important to consider what you've got and if there's any flowering you want to have accentuated throughout the year. Some are placed individually, and some are used to create "walls" or work with other landscape aspects. Also, leaf turning in deciduous trees may be affected with direct lighting.
Along with trees and shrubs, there are accent options for other plants as well, including:
Trellis Plants & Vine Plants
Liriope & Other Low-Lying Plants
We'll Help You Get Creative With Tree Lighting
There is a reason that Divine Lightscapes is so widely trusted in Atlanta and the surrounding area. Not only is our track record filled completely with successful, durable lighting setups, but we also stick to the customer's vision. We are here every step of the way for expert design advice and product suggestions.
To speak to a lighting professional that can help you achieve the tree lighting of your dreams, message us online or call 404-242-1022 today!