Enrich Your Atlanta, GA Home's Nightlife With Patio Lighting
When people say, "the transformation was like night and day," they are describing something dramatic. With patio lighting, you will literally get this type of transformation from day to night. You gain usability of your patio in the evening and the chance to impress your guests while adding extra curb appeal.
Divine Lightscapes brings this beautiful lighting service to residents in the Atlanta area with pride in what we do and the products we use. You can count on us for weather durable lighting that is designed just for you.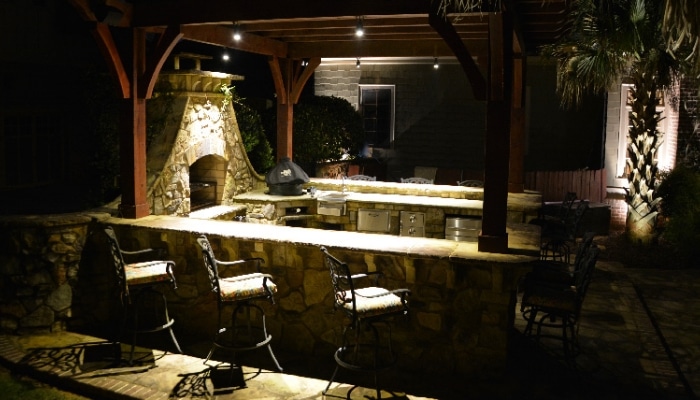 Lighting Possibilities For Your Patio
With our lightscape design experts leading the way, there are several different effects we can create for your patio. The setup will, of course, depend on the size and type of your patio. We can design around:
Open Patios - An open patio makes the most of the sunshine, but when the sun goes down, we can help you enjoy it still.
Entry Patios - It is important to have an entryway lit for proper safety and security. Lighting can also help you create casual nighttime seating and create a starting point for pathway lighting.
Poolside Patios - If you have been considering pool lighting then lighting for adjacent patios is an important part of this process.
Secluded Patios - During the day, these patios can feel private and hidden with your choice of plants and landscaping plants. During the night, they should be elegantly illuminated to create the same type of mystery.
Covered Patios - With a covered patio, the placement of lights on the covered portion is going to be an extra area of concern. Our expert staff can help you address this properly.
In addition to the type of patio you have, you'll still have room for customization. We can create a large variety of different effects through the type of light and by the design.
We Won't Stop Until It's Perfect
Divine Lightscapes is committed to bringing Atlanta and the surrounding area customized LED lighting that meets every need and preference. We guarantee your complete satisfaction with our flawless reputation standing behind us. If you're ready to light up your patio's life, message us online or call 404-242-1022 today!