Bring Out The Best Of Your Atlanta, GA Home With Architectural Lighting
Beauty. Security. Safety. These are three of the many reasons to invest in architectural lighting from Metro Atlanta's fastest-growing lightscapers, Divine Lightscapes. Whether you're looking to raise your home's curb appeal, or curb its appeal to unwanted nighttime guests and predators, architectural lighting from Divine Lightscapes can revolutionize your home-owning experience.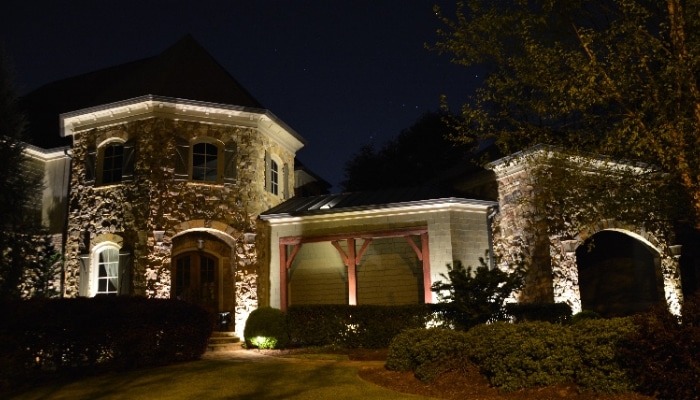 What Architectural Lighting Services Do We Offer?
From your house to your yard, we've got you covered:
Let's explore the advantages of professional outdoor home lighting together!
What Are The Benefits Of Architectural Lighting?
Any average technician can set up a flood light and point it at your house. But our service professionals are by no means average. You can be assured that with us, you will be getting the most out of what architectural lighting can offer:
Beauty - We think of the darkened silhouette of your house as a canvas. Our amazingly efficient and durable LED illuminators can give your home an extra layer of depth and beauty that you might never have even noticed otherwise.
Security - It is widely agreed upon by law enforcement, insurance agencies and even homeowners associations that the addition of artificial illuminance can greatly increase your home's safety.
Safety - Just because the sun goes down, it doesn't mean that your residential activities also come to a halt. You still have to take out the trash. You might be coming in from a late afternoon jog. You may need to take the dog out. The kids may come home after dark. The list goes on and on. Do these things safely with proper lighting.
These three advantages come into play whether we are providing you with accent, pathway, pool, patio, deck or another specific lighting service.
Ready For An Upgrade? Let's Go!
Our expert artists are ready to paint your home in gorgeous new lighting. All we need is your leave to get started. If you want to improve the look, feel and safety of your home, message us online or call 404-242-1022 today!