Give Your Atlanta, GA Home Dramatic Ambience With Uplighting
Uplighting is an extremely popular method of outdoor lighting used in both architectural lighting and landscape lighting. It is an effect created by pointing lights upwards onto a surface, creating strategic splashes of light. The results of professionally placed uplighting are added beauty, safety and security for your property.
Divine Lightscapes is here to help you achieve these benefits as well as the look that you desire.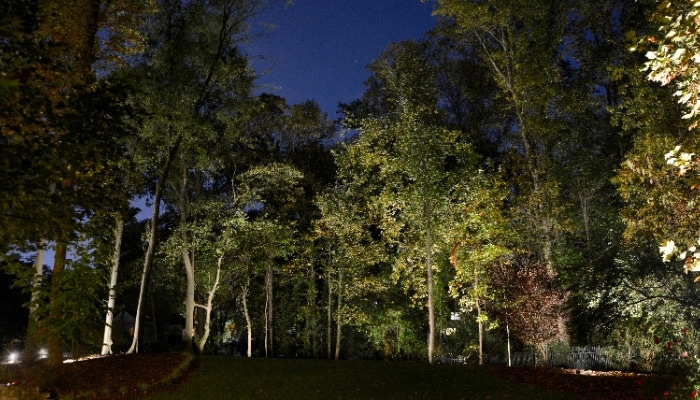 Uplighting Vs. Other Lighting Methods
Many lighting designs call for uplighting or a combination of uplighting and downlighting.
Downlighting is simply your traditional method of lighting: a light fixture that shines down and brightens the ground below it. The higher it is placed, the more space it will light up.
Uplighting is chosen to help accentuate. For example, if you have an attractive tree you want to set off, shining a light upwards will create a dramatic spotlight on its bark, leaves and branches.
Other areas that are popular to uplight include:
Walls, architectural or decorative columns
Statues, waterfalls and fountains
Strategic areas of vertical surfaces, such as the exterior walls of your house
You may opt for a low-lying light or downlighting for flat or spread out features such as pools, paths and gardens.
Get Customized Uplighting For Your Home
Divine Lightscapes can make your beauty, safety and security goals happen with our professional uplighting design and installation. Our job isn't done until the work is complete. During the process, you can always count on our communication to be open and prompt, with detailed attention paid to your every concern. If you're ready to get started, message us online or call 404-242-1022 today!