Add Elegance To Your Night With Pool Lighting Services For Your Atlanta, GA Home
Lighting surrounding a pool at night can be a stunning addition, even if you only use the pool in the daytime. The right lighting plan, covering the pool and paths around it, can be stunning. You can create a glamorous look and increase safety with just a few lights and strategic placement.
Divine Lightscapes can help you achieve the setup that will make your dreams come true and avoid common pitfalls of less experienced installers. Plus, we offer dedicated customer service with everything we do.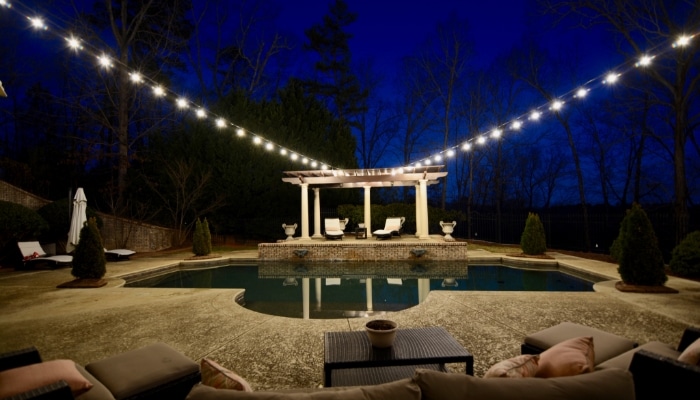 Get Twice The Fun Of Owning A Pool With Professional Lighting
Having lights around your pool brings more enjoyment to nighttime events and provides a phenomenal view looking out your window. Pools don't have to be solely a daytime feature.
We specialize in accent pool lighting around the body of water (not underwater), which can accomplish:
Safe passage, especially in wet areas
Crime and critter deterrence
Added drama and mystery
Accentuation of pool features that tie into the landscape
Adequate lighting promotes safety. The risk of accidental falls or unfortunate wildlife encounters diminishes with proper visibility. Your pool doesn't have to be a hidden risk in the dark.
Plus, we offer many options for customization. The placement and number of lights is extremely important to the design, and we know how to tweak each of those factors in order to create the effect you're after.
We can work around surrounding landscape and hardscape features to create the perfect look.
Divine Lightscapes Is Your Dependable Company For Quality Lighting
We take your interests seriously, and we're not finished with your project until you're happy. We know people expect us to answer the phone, show up on time and bring 100% of our professionalism to every encounter. You can count on us doing exactly that. If you're ready to find out how we can transform your pool into a shimmering oasis, message us online or call 404-242-1022 today!