Expertly Designed Deck Lighting For Your Atlanta, GA Home
Deck lighting isn't only sophisticated—it's practical as well. If you have a nice deck on your property, then having professional lighting designed and installed is the best way to do it justice.
It may seem simple, but there are a lot of considerations to get it done just right. Trust Divine Lightscapes to listen to your particular needs and provide lighting that will enable you to enjoy your deck to the fullest at all hours of the day.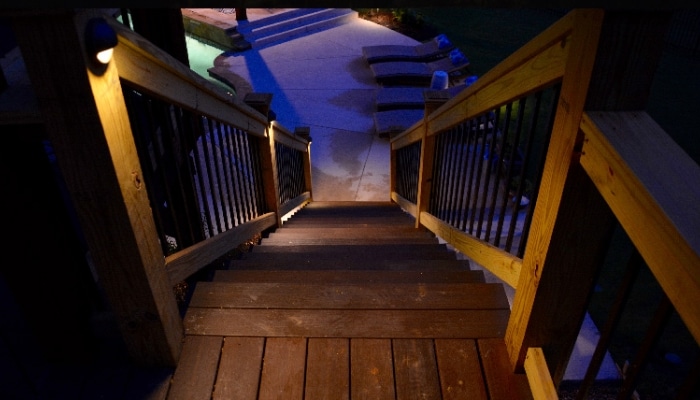 Enjoy The Versatility Of A Lit Deck
What is your vision for lighting your deck? Whatever your goals, there are actually several things that will be accomplished by a professionally designed and installed lighting system. You will be able to enjoy:
Safe Navigation - Dark steps are a major hazard. By lighting the railing, casting light onto the area, and using surface lights, we can create both safety and a stunning visual effect.
Fantastic Curb Appeal - Even if your deck is not visible from the street, a well-lit deck is quite a sight for you, your family and your guests and neighbors.
Better Evening Entertainment - It's hard to realize just how limited your hosting abilities are until you experience the difference. Instead of being packed into the house or huddled around one or two lights on the deck, with proper lighting, guests can be more comfortable and spread out.
The right deck lighting can also:
Deter animals from approaching your home
Make your home less appealing to burglars
Blend seamlessly with current or future lighting plans
We present flexible lighting options that make all of these goals achievable.
Call Divine Lightscapes To Upgrade Your Deck Experience
If you want a lighting company that is backed by a history of pleased customers and a strong commitment to quality, you will find full satisfaction with Divine Lightscapes. We will help you navigate the process of having your deck professionally lit and answer any questions you've got. If you're ready to get started, message us online or call 404-242-1022 today!