Light Up The Outdoor Space Of Your Atlanta, GA Home With String Lighting
Do you have an outdoor space that is too dark or lacks the level of security you would like? Getting string lighting for your outdoor space is a great way to provide illumination over walkways, pools, patios or firepit areas. The glow that string lights provide creates an ambiance and an added layer of safety for your outdoor space.
Our string lights are designed to fit your specific needs, allowing us to illuminate your outdoor area and enhance its appearance. Talk to our experts to learn more about our outdoor string lighting designs.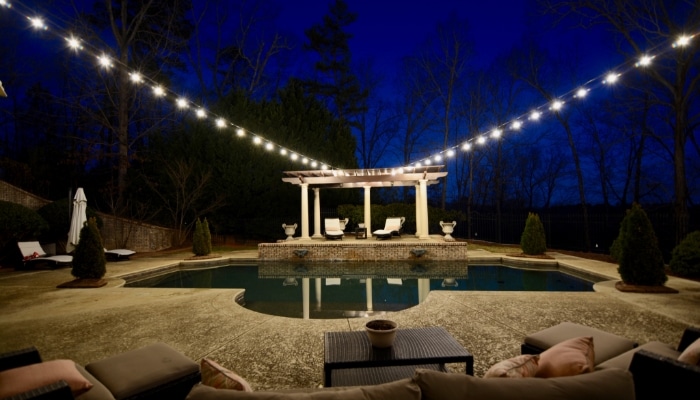 String Lighting Design For Outdoor Spaces
String lighting is a highly versatile way to light your outdoor area. Whether you want soft mood lighting or a bistro or vintage feel, string lighting is the perfect choice. At Divine Lightscapes, we provide a variety of outdoor string lighting options to choose from including:
LED string lights
Dimmable string lights
Waterproof string lights
Within our outdoor string lighting options, we offer customized design to ensure that your string lights match your outdoor setup perfectly. We also build a custom stainless steel pulley system for your string lights to allow them to be lowered and serviced with ease.
Having string lighting installed will not only heighten the way you experience your outdoor space, but it can also increase the value of your property. String lighting makes your outdoor area more functional and enjoyable for your personal use for entertaining guests.
Why Choose Divine Landscapes
At Divine Lightscapes we pride ourselves on integrity and service, aiming to create the best outdoor lighting for your property. With our years of experience designing outdoor lighting and bringing outdoor spaces to life, we are confident that we can make your outdoor lighting vision a reality - and our work comes with a satisfaction guarantee. To learn more about our string lighting services, message us online or call 404-242-1022 today!