Professional Outdoor Lighting Services For The Greater Atlanta, GA Area
Whether you are looking to enhance your architectural beauty, increase your residential or commercial safety, or enrich you and your loved ones' security, Divine Lightscapes can meet and exceed all your desires for beautiful outdoor lighting.
Why waste another day or night with inadequate housing, landscape, or pathway lighting? Did you know that Divine Lightscapes can give you all these things you've always wanted, all at one time? Give us a call and see how we can transform your home today.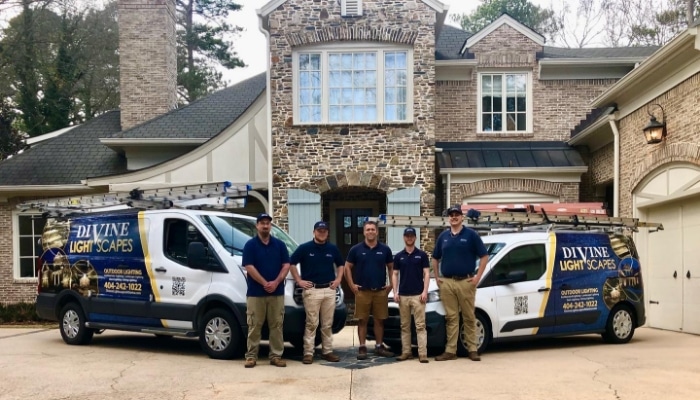 The Lighting Services We Offer
If you have considered outdoor lighting for your residential or commercial property, you probably had these three things that you wanted to accomplish: security, safety and beauty. While the look of your home is certainly important, you also want to keep yourself, your loved ones and your treasures secure at night.
A house without proper illumination is an open invitation for thieves or wild animals. You also want to give yourself and your loved ones the feeling that they actually are safe. Professional outdoor lighting can accomplish this as well.
If you haven't seen one of our amazing lightscape projects, you really should. It can be a breathtaking experience. Then you can take advantage of one of our services:
Get These Professional Services For Yourself
Proper, professional outdoor lighting services from Divine Lightscapes can give you a perfectly illuminated home, yard, property line, driveway, pool, patio… the list goes on forever.
Experience our expertise and craftsmanship for yourself! Call us for an estimate and consultation at 404-242-1022 or use our online contact form. We can guarantee that once you've experienced the home and lifestyle upgrade of professional outdoor lighting, you'll never know how you ever lived without it!